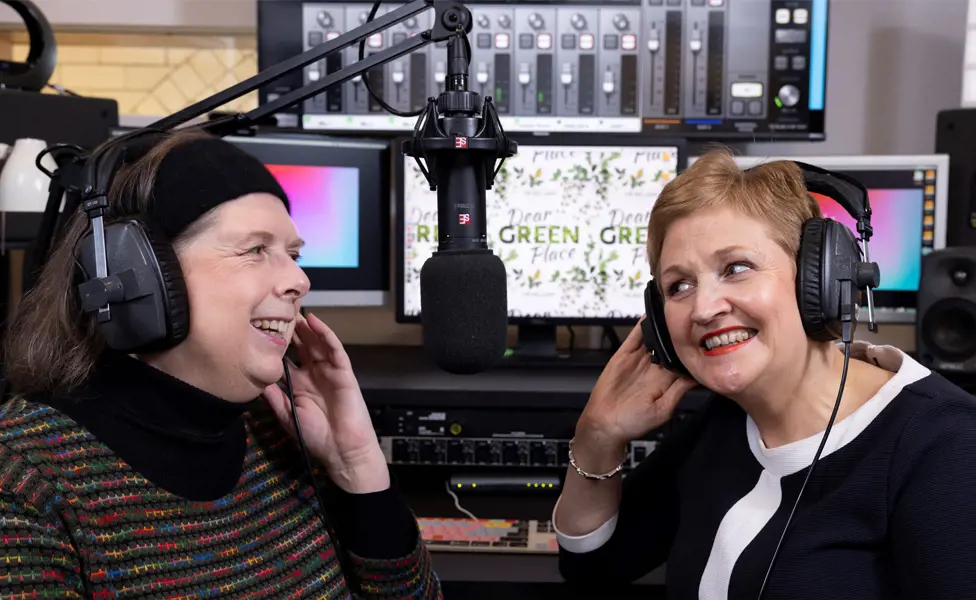 The Prince & Princess of Wales Hospice is taking to the airwaves with its very own podcast series.
For the first time in its history and to mark its 40th anniversary, the hospice is bringing its story to a whole new audience with a special six-part podcast series. Working with leading podcast company the Big Light, founded by BBC Scotland's Janice Forsyth and producer Fiona White, the series takes a look behind the door of Glasgow's Hospice with candid interviews with patients, staff, volunteers and supporters.
Rhona Baillie, Chief Executive of The Prince & Princess of Wales Hospice, said: "We're delighted to be working with The Big Light on this exciting new series. Hospice care is often misunderstood and sometimes feared. Death and dying is a part of life but at the hospice we believe that while we cannot add days to life we can add life to days.
"The hospice offers people with life-limiting and terminal illnesses compassionate support and care through some of their most difficult times. We also support family members pre and post bereavement.
"It's so important that people know how much of a difference hospice care can make to a person's life. This podcast series offers a glimpse behind the scenes of the hospice with real stories from the people who use our services and from those who provide them. We often find that people are surprised when they first visit the hospice. It's a bustling building full of life. People make special trips to Bellahouston Park just to visit our public café BARGACREE.
"Teams of dedicated staff and volunteers have been providing gold-standard palliative care to the people of Glasgow for 40 years and this podcast series will hopefully help us dispel some of the myths around hospice care and open our doors to people all over the world."
The Dear Green Place podcast will follow this special anniversary year for The Prince & Princess of Wales Hospice. Each month listeners will have the opportunity to follow different stories from people who have a connection with the hospice.
Pauline Moore is the host and producer of Dear Green Place. She has a long experience of working in radio and more recently podcasting. She's also co-host and producer of the Gold award winning Talking Derry Girls Podcast.
Pauline explains: "I'll be talking with patients and families, the young people who use services, clinical and nursing teams, the staff and volunteers who keep the place running, the fundraising team who organise events and activities to raise much needed revenue. We'll also feature the charity shops and plans for a market garden which will get underway in the warmer months.
"The reach of the hospice is broad - it is part of the community. BARGACREE café cafe offers a refuge for dog walkers in Bellahouston Park as well as patients, families and staff. 
"These monthly episodes will be set against the changing seasons throughout the year. The surrounding landscape is very much a part of the everyday life of the hospice. There is a recognition that nature plays an important role in the work that goes on here. 
"The aim of the podcast is to break down the barriers in addressing issues around end of life, how we as a society think and talk about death. It's also about how people who have a life limiting condition and their families can approach using the services of hospices with a different mindset. It's about living life well."  
The pilot episode in the podcast series, The Front Door, was recorded pre-COVID and features interviews with staff and patients, including the hospice's very first wedding at its new home in Bellahouston Park.  'Dear Green Place' is available now for download from thebiglight.com/deargreenplace
Pauline Moore is the host and producer of Dear Green Place.  She has a long experience of working in radio and more recently podcasting.  Pauline worked as a BBC radio reporter in Northern Ireland during the 90s.  She has lived and worked in Glasgow for more than 20 years working as a BBC Radio Scotland Producer in news and across different speech programmes and now as a freelance audio producer and has worked in a number of different podcasts for BBC Sounds, The Big Light and Museums and Heritage Highland. 
The Big Light Is an award winning, end to end producer, publisher and distributor of premium on demand audio content and fast becoming Scotland's leading podcast company. Producing content for their independent platform The Big Light Network, it hosts 15 original multi-genre series and 5 curated shows.  The company also makes podcast series via The Big Light Studio for commercial clients such as BBC Sounds, Spotify, Scottish Enterprise, The National Trust for Scotland and the The Royal Bank.