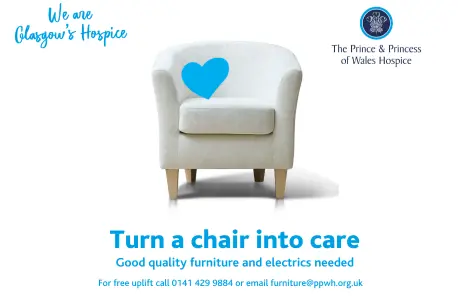 In a world where trends come and go, and furniture styles change with the seasons, there's one timeless act that never goes out of fashion - giving back to your community. The Prince & Princess of Wales Hospice, based in Glasgow, is a charity that has been doing just that for more than four decades. As they continue their vital work in caring for individuals with life-limiting illnesses, you can contribute to their cause in a meaningful way, by participating in our free furniture collection and house clearance initiative.
About us
The Prince & Princess of Wales Hospice is a charity that has been providing compassionate palliative care to individuals with life-limiting conditions since 1983. The hospice is dedicated to enhancing the quality of life for patients, as well as providing support for their families during challenging times.
The hospice's commitment to providing specialised care in a comfortable, welcoming environment has made a profound impact on countless lives in the Glasgow area. However, maintaining and improving their facilities requires resources and community support.
The Furniture Appeal
Our Furniture Appeal is a worthwhile initiative that not only supports The Prince & Princess of Wales Hospice but also helps you declutter and give your preloved furniture a new home. Whether you have a cosy sofa, a vintage coffee table, or a sturdy dining set that you no longer need, your gently used furniture can make a significant difference to those in need. We collect all sorts of items:
Sofas, suites, armchairs
Tables, chairs, desks, cabinets
Beds and bedroom furniture
Your furniture should be in good clean condition and is complete. All furniture must also have fire labels.
How It Works
Free Furniture Collection: We offer a hassle-free, free furniture collection service within the Glasgow area. To schedule a collection, simply get in touch with us through our website or email furniture@ppwh.org.uk or call 0141 429 9884. Our team will arrange a convenient time to pick up your second-hand furniture.
House Clearance Assistance: If you are looking to clear out your home, whether due to downsizing, moving, or redecorating, our team can help. We will collect unwanted furniture and household items, ensuring they find new homes with people who truly appreciate them.
Supporting the hospice: All collected furniture is sold through The Prince & Princess of Wales Hospice's charity shops, with the proceeds directly supporting the hospice's crucial services. By donating your furniture, you are contributing to their ongoing mission of providing palliative care and support to individuals and their families.
Why Donate?
Make a Difference: Your donated furniture can bring comfort and relief to individuals and families going through challenging times.
Environmental Impact: Donating furniture encourages recycling and reduces waste, contributing to a greener environment.
Community Spirit: Being a part of this initiative fosters a sense of community and goodwill.
Conclusion
In a world driven by consumerism, it's nice to remember the importance of giving back. The Furniture Appeal to support The Prince & Princess of Wales Hospice not only offers a convenient way to declutter your home but also provides much-needed support to those facing life-limiting illnesses. Your generosity can make a real difference and help the hospice continue its valuable work in the Glasgow area.
To schedule a free furniture collection or house clearance assistance, visit our website or contact us today. Together, we can make our community stronger, one piece of furniture at a time.