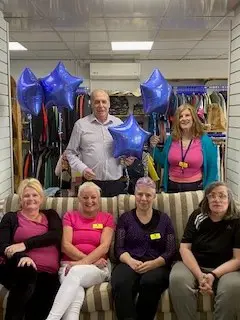 The Hospice Shop at 32 Main Street, Cambuslang closed during the pandemic due to flooding which caused extensive damage.
Following a period of refurbishment, the shop opened its doors to loyal customers and friends on Saturday 5 August at 9am.
Hospice Shop Manager, Sharon Glass, commented: "We are just delighted to be back open in Cambuslang. Our local community really relied on our shop to offer low-cost, good-quality items on their local high street. Also, as one of the bigger shops, we also offered a range of furniture which I'm happy to confirm we have back on sale.  
"The shop is fully stocked with an incredible range of clothing, accessories and other items that other shops just don't stock. We'll have volunteers back in the shop and we are all just so excited to welcome everyone back."
The Cambuslang Hospice Shop is one of 17 retail shops open throughout the Greater Glasgow area. The shops generate much-needed funding for The Prince & Princess of Wales Hospice which cares for 1200 patients and their families every year.
The hospice must fundraise approximately £3million each year to continue providing this care, free of charge to those who need it.
People can find out more about the Hospice Shops and their locations by visiting www.ppwh.org.uk