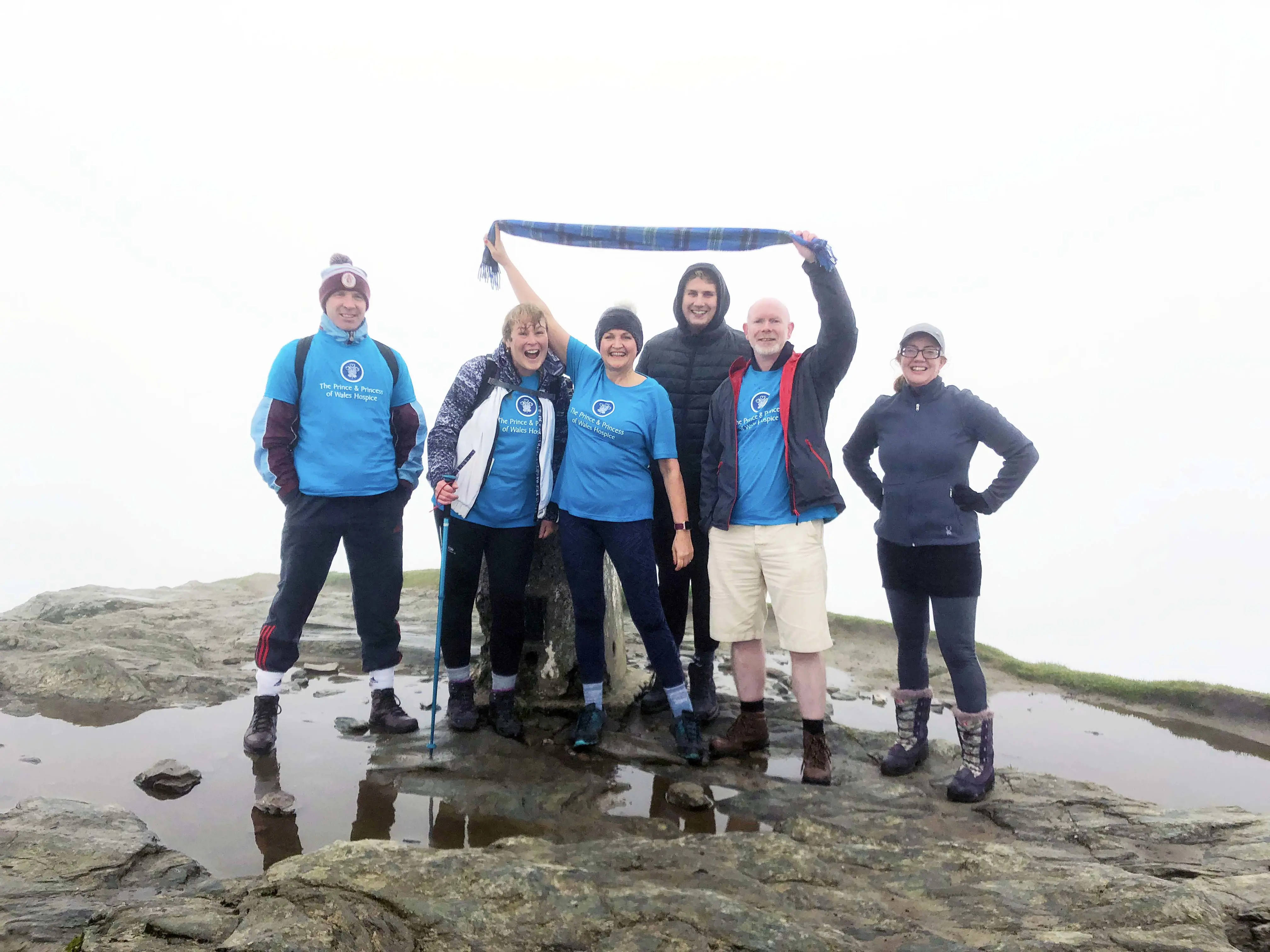 A team of from the Prince & Princess of Wales Hospice including CEO Rhona Baillie and the hospice President, the Lord Provost of Glasgow Philip Braat, took to the hills to raise more than £3,000 for Glasgow's Hospice.
The intrepid team work in a variety of roles in the hospice including finance, communications, business development, fundraising and reception. The team of eight set out on Tuesday 28 September to begin their arduous climb of Ben Lomond in the Trossachs as part of the Great Munro challenge.
Meeting at 9.30am, the hardy team needed their most comfortable walking boots to climb the almost 1,000 meters of the Munro mountain.  Rhona Baillie, Chief Executive of The Prince & Princess of Wales Hospice, said: "It was a tough climb and the weather was difficult at times but I am so proud of what we, as a hospice team achieved. We pulled together and encouraged each other the whole way up the mountain. And it was absolutely worth it. The views are just spectacular and we made sure we got plenty of photos.
"But, the most important thing about completing our challenge, was the money we have managed to raise for the hospice. As a charity, we need to raise approximately £3million each year so we can continue to provide compassionate care to patients at the end of their lives and their families. During 2020 the hospice was greatly affected by the pandemic - we had to cancel all our fundraising events and our shops were closed for most of the year.  People have been generously fundraising in their own ways over this time and we were determined to do our bit to raise vitals funds so the hospice can keep on caring."
The Lord Provost of Glasgow and Hospice President, Councillor Philip Braat, commented: "I was happy to do what I could to help raise money for the hospice. The care provided by the hospice is so inspiring and important to families in and around Glasgow that it was a real privilege to take part. I enjoy hillwalking and was delighted to become part of the hospice team for the day and do whatever I could to help."
The climb took the team about five hours to complete. Thankfully no injuries were sustained and everyone was pleased to head back down and enjoy some well-earned cakes and hot drinks at the bottom.
It doesn't end there…
Not content with conquering one Munro, CEO Rhona also took on the additional feat of climbing Ben Chonzie with her rescue dog, Harriet on 3 October.  Rhona was determined to go the extra mile (albeit up a mountain) to raise as much money for the hospice as possible.
Rhona, added: "I would just like to say a heartfelt thank you to everyone who has supported the hospice in the past and particularly over these difficult times. We have really needed our local community's support. And they have shown it in so many ways. From donations to fundraising, to kind letters and comments, we have been overwhelmed by our supporters' loyalty and dedication to the hospice. From every member of our staff, we thank you."
The hospice Munro baggers are:
Rhona Baillie, Fraser Baillie, Clare Masterton, Andrew Douglas, Michelle Pagett , Chris Harwood , Charlene Craig and Lord Provost Philip Braat.