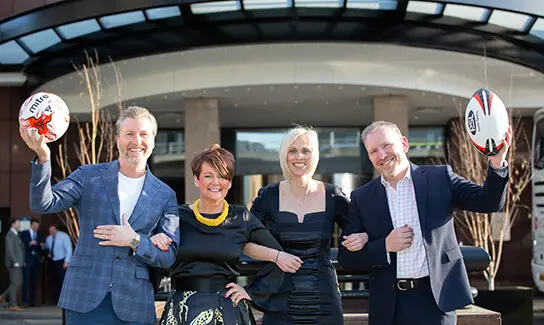 Former Wales football captain Robbie Savage, ex Scottish rugby player Andy Nicol and Shelley Kerr, head coach of the Scottish women's football team, were among the guests at The Prince & Princess of Wales Hospice's Sportsman's Dinner at Glasgow Hilton.
The annual fundraising event, hosted by pundit and STV Glasgow sports host Peter Martin, and sponsored by AG Barr, raised more than £39,000. "The hospice does brilliant work and it's fantastic to see so many high-profile people from the world of sport and business coming together for such an important issue," said Shelley. Andy added that he first attended Sportsman's Dinner in support of the hospice 10 years ago. "It's great to be back and hear all about the amazing work that's being done to build a new hospice in Glasgow's Bellahouston Park."
Meanwhile, Robbie said the fundraising total of the new hospice – only £500,000 away from reaching the £21million target – was an incredible achievement for the hospice and the people of Glasgow. "I'm delighted to be here to support the hospice. When the new facility opens it will offer a fantastic service."
This is the 22nd year of the event that raises money to provide palliative care and support to the people of Glasgow. It costs £13,500 a day to run the healthcare facility in Carlton Place, on the banks of the Clyde in the city centre. The hospice cares for 1200 patients and families every year, looking after patients in the ward, in their own homes and at busy day services clinics. Patient care is focused on living well and dying well, supporting people to be as independent as they possibly can. "As we get ready to move to our new hospice in Bellahouston Park later this year, we continue to provide an exceptionally high standard of care to patients and families at Carlton Place, so the support we receive at fundraising events like this is vitally important," said Heather Manson, director of fundraising at The Prince & Princess of Wales Hospice. "Our patient care is all about living well and dying well and we help people to be as independent as they can for as long as possible."
The new hospice, set in a 7.5-acre site in Bellahouston Park, will lead the way in palliative care, offering a gold standard of care and support to 1200 new patients and families every year in a purpose-built facility. The hospice's £21million Brick by Brick Appeal to build a new home in Bellahouston Park still has £500,000 to raise to reach its target. Make a donation to Kit it Out, the final phase of the Brick by Brick Appeal, online here or make a smaller donation of £5 by texting KitItOut to 70660.