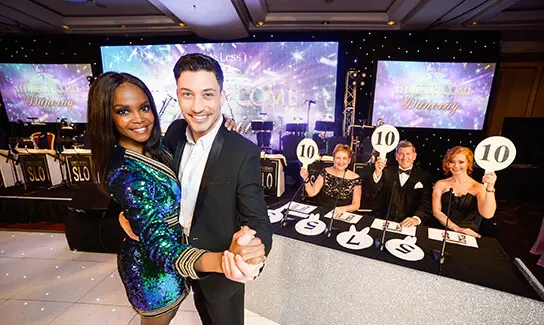 Oti Mabuse from the top-rating BBC Television series Strictly Come Dancing wowed fans when she took to the dancefloor at Glasgow Hilton with dance partner Giovanni Pernice to help raise money for The Prince & Princess of Wales Hospice.
More than £100,000 was raised on the night - a phenomenal amount and the highest raised ever in the history of the event, which launched in 2010.
The special guests at this year's award-winning (A Little Less) Strictly Come Dancing event, sponsored by the Malcolm group, Oti said how delighted she was to be in Glasgow to support the hospice.
"I love doing things that are for a good cause and because this event was all about dancing I had to get involved," she said.
"I always say that everyone can dance so I felt compelled to be part of the hospice's amazing (A Little Less) Strictly Come Dancing event."
The couple wowed the 600-strong sell-out audience, dancing the cha cha and the jive.
It was a fabulous night of glitter and glamour, hosted by TV presenters Carol Smillie and David Farrell, that saw eight couples made up of hospice supporters and professional dancers compete for the glitterball trophy, which was won by Jean Bonner.
"It's been a fantastic experience," said winner Jean, who performed a samba with professional dancer Frederico Ribeiro that was hailed by the judges as a difficult but incredibly beautiful routine.
"The hospice is a wonderful charity to support and I've loved every minute of the training and fundraising."
Among the judges were Giovanni and Oti, along with award-winning actor Kathleen McDermott, who won when she took part in the hospice event in 2011. The head judge was John Comrie, the chairman of the British Association of Professional Teachers of Dancing of Scotland. They were all marking each couple and giving feedback on style and technical ability.
The sparkling display of ballroom routines that has become a hot ticket on the fundraising calendar of The Prince & Princess of Wales Hospice took place on Saturday, 10 March and also included a special performance by Scottish amateur ballroom and Latin American dance champions Tibor Poc and Hilary Mouat.
Dentist Philip Friel, who danced a lyrical rumba with Kerry Tierney, was runner up and won the prize for the highest amount of money raised by a contestant.
He said: "The experience from start to finish has been incredible. The training was tough but so worth it."
Rhona Baillie, chief executive of The Prince & Princess of Wales Hospice, said it was a fabulous event, and the dancing – and fundraising - has been truly exceptional.
"The dancers have all been totally dedicated and taken part in an intensive training programme in the past few months. They were amazing on the dancefloor," she said.
"We can't thank them enough for their hard work in training and all their fundraising efforts. The money raised truly was exceptional.
"All that money raised goes directly to patient care, helping patients and families at one of the most difficult time in their lives."
Glasgow's Hospice provides palliative care to 1200 new patients and families every year and is moving to a new purpose-built site in Bellahouston Park this summer, on land gifted by Glasgow City Council.
It costs £5million to provide free care to the people of Glasgow and only £1.9m of that comes from the NHS, the rest is fundraised at events like (A Little Less) Strictly Come Dancing.
The hospice's £21million Brick by Brick Appeal to build a new home in Bellahouston Park still has £750,000 to raise to reach its target. Make a donation to Kit it Out, the final phase of the Brick by Brick Appeal, online here or make a smaller donation of £5 by texting KitItOut to 70660.