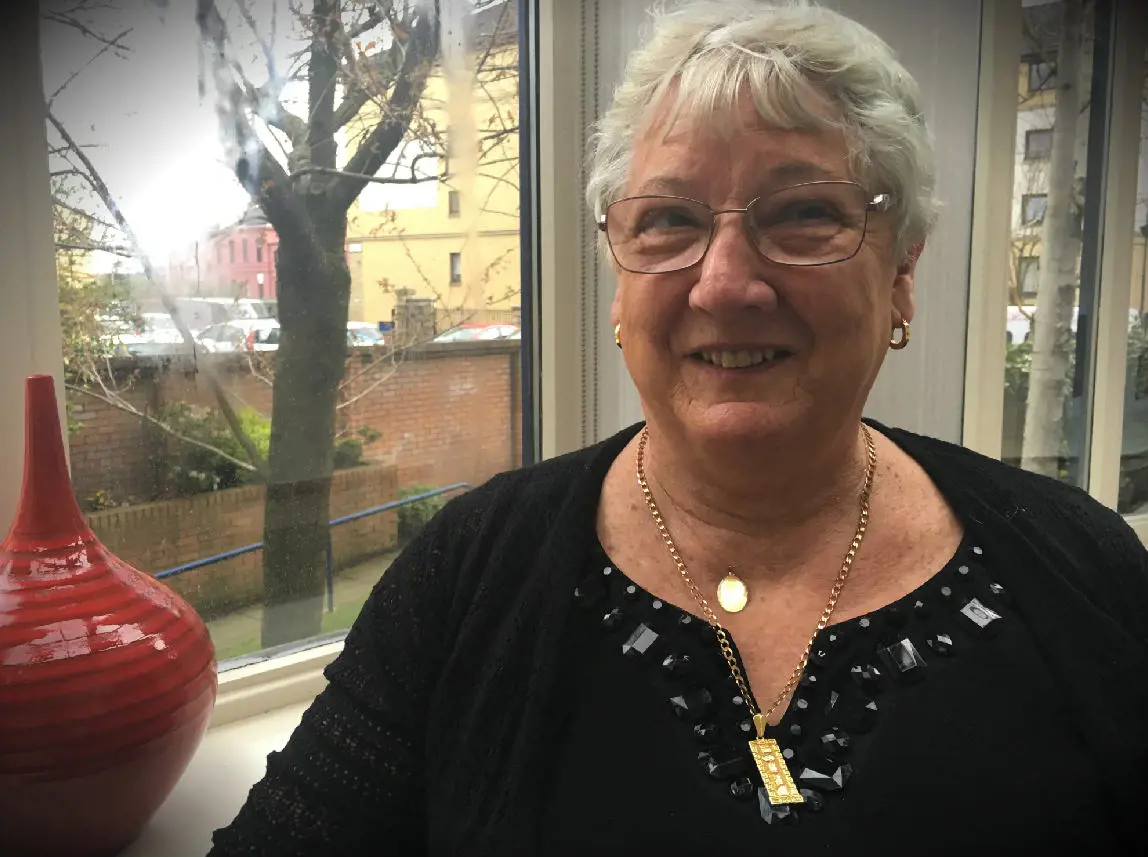 "I just said, 'Right, we'll cross each bridge as we come to it'. That's all you can do. I was shocked but I'm a strong person and I didn't want to break down in front of him. I wanted to be strong for him and for the family," remembers Betty.
"They said there was nothing they could do but they could put in a stent, so he agreed to that. He did say he didn't want chemotherapy.
"We went home and spoke about it and I broke down in front of him and that's the only time I really did."
Both retired, they loved spending time with their family, including 10 grandchildren and four great-grandchildren, and going on holiday.
"George was a welder and worked in lots of different places and on the rigs, he was a hard worker," says Betty.
"He was told he had 10 months when he was diagnosed but it was closer to 10 weeks. I didn't want to lose him but I'm glad he wasn't here for 10 months and suffering all that time."
One of the community nurses from The Prince & Princess of Wales Hospice visited George, 72, at home and suggested he might like to go to day services at Carlton Place. He wasn't sure what to expect and Betty went with him for the first visit.
"He went the following week and thoroughly enjoyed it," smiles Betty.
He wasn't well enough to go the next week and after speaking to a member of the clinical team over the phone, Betty was told that George should go to hospital.
George needed a blood transfusion and he had the option of either staying in hospital or going to the hospice. He wanted to go to Carlton Place, where there was a bed for him in the ward.
Unfortunately the blood transfusion didn't make a difference to George's condition and the couple were faced with the news that he might not get the 10 months expected after diagnosis.
George stayed in the hospice for the last three weeks of his life.
"At first he said he didn't want to go home because it would be too much for me, but then he changed his mind and we got it all arranged," says Betty.
"Then he told me that he had spoken to the doctor and said he didn't want to be here any more, he didn't want to be in this world. I just felt, well, if that's what he wants. I didn't want to lose him but I didn't want to see him suffering."
George wanted the hospice chaplain, Rev Leslie Edge, to conduct his funeral. At first he wanted a humanist service and then decided he preferred a Christian service.
"I asked him if he was frightened and he said not as long as I was there," says Betty.
George was too ill to go home and stayed at the hospice.
"I remember a nurse commented that we were a very loving couple and she said that George had said I was the love of his life," says Betty.
For the three weeks that George was in the hospice, Betty didn't miss a day of visiting and he was surrounded by family and friends.
Latterly he was moved into a single room and she stayed with him through the night. When he died, George was surrounded by his family.
"What keeps me going is that he didn't suffer. He was apprehensive about going to the hospice at first but when he did he really liked it. We didn't have any experience of the hospice before that but it really helped," says Betty.
She was offered counselling by the hospice but didn't feel she needed it, though she was keen to speak to people in the same situation.
"I joined a counselling group at the hospice with eight other people and we still keep in touch. I found it really helpful and it has made me stronger," says Betty.
"I also went along to a widow and widowers' club and now I've taken over running it. We've gone on a few trips together and we share our experiences."