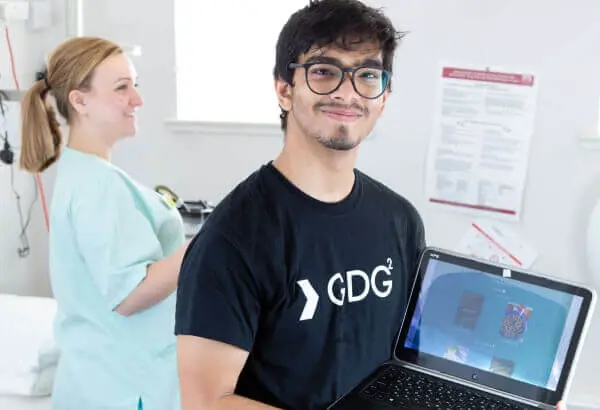 Hospice patients will be able to order food directly to their rooms at any time thanks to a new app developed by a student.
Hemang Kandwal has been involved in one of Settlement's Find a Solution project with the Prince and Princess of Wales Hospice based in Glasgow.
Hemang, a 19-year-old University of Glasgow student from India, created an app which will allow patients in the new hospice to order food directly to their rooms at any time of the day or night.
Described as the Menu of Tomorrow, the app will be tested in the coming weeks by the hospice, which is due to open in September.
Hermang said:
"Being a part of this project, I can now see the many ways you can help make people's lives easier by automating daily tasks.

"This opportunity of developing a production level app helped me not only build my technological skills but enhanced my communication skills. Interacting with people from the hospice taught me more about the charitable side of life and its importance that we often neglect."
Rhona Baillie, Chief Executive of The Prince & Princess of Wales Hospice, said: 
"We are delighted to be working in partnership with the University of Glasgow on this project.

"This app will support the measures our team can put in place, give patients full control over their own environment and not be constrained to set meals throughout the day."
Gillian Sherwood, the Hospice's Director of Clinical Services, added: 
"Our patients often have complex and varying needs in relation to food and nutrition and we realise that patients should be able to eat what they want when they want.

"This technology will benefit both patient and family care in the long-term.

"We are very proud to have Hermang develop this technology and play a vital role in the future of our new hospice."
Find A Solution, which is funded by the Settlement, allow students a chance to be connected with a third sector organisation, and to gain professional experience.
The exhibition, which runs until the end of August has been curated by Samantha Clark, a graduate intern based at the University's Archives.
Samantha said: 
"This Settlement in the University has evolved over the last 100 years. It was started by a female, admitting its first male members in the mid-1930s, and changed its name to the University of Glasgow Settlement.

Over our 120-year history the Settlement has evolved to meet new needs and incorporate new philosophies. No longer residential, its focus is still on how volunteers can become involved in social action. 'Find a Solution' projects challenge students to provide solutions to problems raised by a range of local charities."
Since 2008, students taking part in Find a Solution have helped many community organisations, including Alzheimer's Scotland, Erskine Care Home for Veterans, and Indepen-Dance. And also includes partnerships with the Legal Services Agency, Immigration Bail Observation Project Scotland and JustRight Scotland.