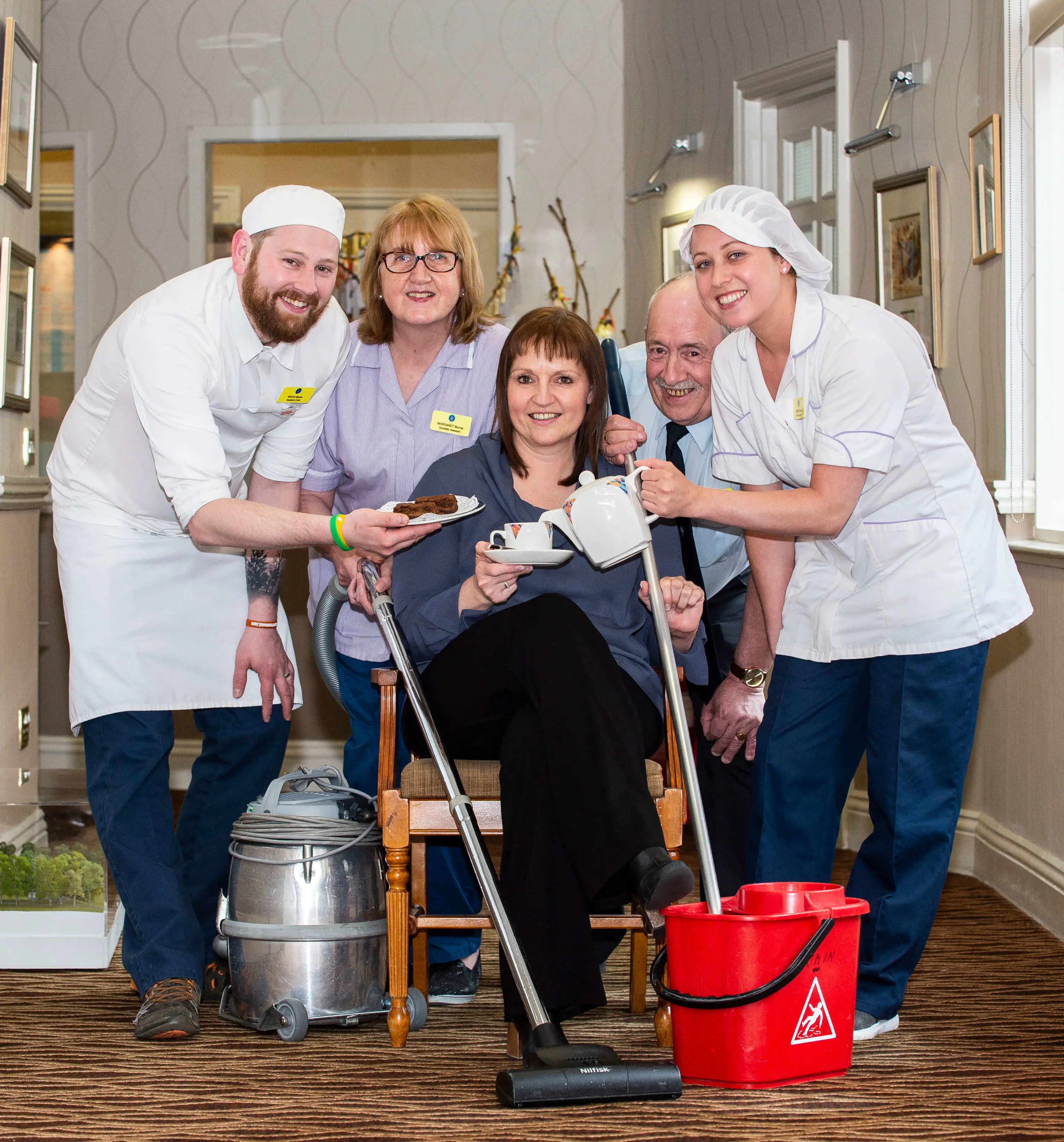 Organised by The Prince & Princess of Wales Hospice in Glasgow, the 5k course around the park blasted entrants with cannons of coloured foam and bubbles along the route.
Hospice supporters of all ages, from tiny tots to grannies and grandpas, made their way around the course, dressed in tutus, brightly coloured wigs and giant sunglasses and declared it a bubble-tastic success.
The Prince & Princess of Wales Hospice organised the event with participants supporting it and the other members of Scotland's Hospices Together, including CHAS, Accord Hospice, Ayrshire Hospice, Highland Hospice, St Andrew's Hospice, St Vincent's Hospice, Ardgowan Hospice, St Columba's Hospice and Strathcarron Hospice.
The family of Anne Emonds from Renfrew are taking part in Bubble Rush to fundraise for The Prince & Princess of Wales Hospice.
Danielle Gen and Donna Houston, the girlfriends of Anne's sons Craig and Mark, along with Anne's niece Jacqueline Smith and great niece Sophie Smith, are tackling the colourful foam-filled challenge to thank the hospice for the care she received.
It follows on from Craig, Mark and some friends running a 10K, with lots of support from dad Jim.
"This will be five years since my mum died, she was 52 and had bowel cancer," remembers Craig. "When she was diagnosed in February 2012 it was already at stage four so she didn't have that long, only 18 months.

"My mum was looked after by the hospice for six weeks and everything the hospice did was absolutely superb. The care was first class, and she could have anything she wanted.

"It was my mum and dad's 30th wedding anniversary when she was in the hospice and the nurses gave them a card and flowers and made it a really special day.

"She got on really well with all the nurses and they always had time to stop for a chat. The staff were all really good to her.

"My mum understood she was in the hospice for palliative care but she just got on with her life. She said how much she loved the people who were there looking after the patients."
He adds: "She passed away on 25 July, my brother's birthday. We get together and do something every year to remember her.
He adds, smiling: "She was just the perfect mum, nothing was too big to ask her, she would do anything for you. She had loads of time for her family and that's what she loved the most."
Bubble Rush entrants were split up into three waves before making their way around the route. They dived into the coloured foam – dancing, walking and jogging along the way. There were babies in buggies and big groups of families and friends all putting the fun into fundraising.
This is the third year The Prince & Princess of Wales Hospice has staged Scotland's only Bubble Rush at Bellahouston Park.
"We are absolutely delighted that Bubble Rush has grown into this massive success, it's a wonderful opportunity to be joining up with the other members of Scottish Hospices Together to fundraise," says Ashley Thomson, fundraising manager at The Prince & Princess of Wales Hospice.
John Brady, head of fundraising at St Andrew's Hospice in Airdrie and chairman of Scotland's Hospices Together, adds: "By working together, Scotland's hospices have given participants a fun day, while raising money for vital hospice care in local communities all across Scotland."
The Prince & Princess of Wales Hospice is building its new home on a site nearby in Bellahouston Park and doors will open later this year.
The hospice still has to raise £500,000 to reach the £21million target of the Brick by Brick Appeal. To donate £5, text KITITOUT to 70660 or make a donation online here.