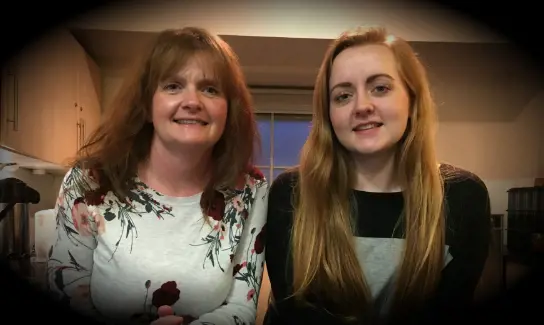 They have done bucket collections, helped out in a hospice shop and served tea to patients in the ward at Carlton Place and all agree that it's a great way to give back to an organisation they hold dearly in their hearts.
"We got involved because my father-in-law, Billy Campbell, came into the hospice in 2011 and passed away here. We felt as a family we wanted to give something back," said mum Carlyn Campbell.
"We did the Welly Walk in Bellahouston Park, then my older daughter Amy started doing the tea trolley in the hospice on a Wednesday. She was studying occupational therapy at the time and came in once a week.
"Meanwhile I got more involved with helping the fundraising department. I joined the Speakers' Bureau and went out to a couple of church groups to talk about the hospice and how I got involved.
"Last year Amy graduated, got a job and moved to Aberdeen, so Sophie took over.
"And last summer I took redundancy from my job, it was just when the new shop opened in Battlefield. I let them know I was available and started doing a day and a half a week and I absolutely loved it. It was so much fun, everyone you meet, from the other volunteers to all the customers, everyone was so nice and friendly. A lot of people like to chat, because the hospice is very local to Glasgow there is always a link, they know someone who has used the hospice's services.
"I'm now working again but I'm trying to keep volunteering every couple of weeks because I really enjoyed it so much.
"At the moment I do a Saturday once a fortnight, and a maybe do an event in an evening or a Saturday. It could be as much as seven hours a week, or it might not be anything at all as I can be away a lot with my job."
She added: "People always say they'd like to do more but don't have time. It's amazing when you actually put your mind to it that you can find the time. It doesn't have to be a huge amount of time, it can be a couple of hours over a week. It can make a huge difference to an organisation like this.
"It has enhanced my career. When I changed jobs – I used to work in financial services and always had done – but now I work for a charity.
I found my volunteering experience useful to have on my CV and talk about in an interview. It can be career enhancing as well as offering personal fulfilment.
"If I come home after doing a bucket collection or working in the shop, you have a real sense of personal satisfaction. Reward isn't always money related, it very much touches the heart strings."
Carlyn believes that for her daughters to get involved in volunteering from their teenage years has been very beneficial to them.
"There's a perception that volunteers are all retired. That's not true," said Carlyn.
Sophie, 20, is now studying nursing and said helping with the tea trolley in the ward at the hospice has given her an insight into working on the ward.
"You learn new skills. For me, being able to interact with patients really helped me with my nursing. I can use what I've learned in the ward when I'm on placements," she said.